Online Learning – ROOTT C (One-Piece Implant) Training
LEARN ONLINE NOW 
Why train with ROOTTUK and Cortically Fixed @ Once?
Cortically Fixed and ROOTT UK has partnered with leading dental professor Dr  Henri Diederich (TOP100 Doctors) to share his years of experience and knowledge to widen the treatment of patients across the Globe. **Learn Online today**
**Online Course**
ROOTT C (One Piece Implant) Training 
by Dr Henri Diederich
(6 Lessons)
Course Details
Section 1: Reading and Illustrations
   - Introduction & Learning Objectives
   - One Piece Implant Rules
   - One Piece Implant Prosthesis
   - Practical Phase of Implant Placement
   - Case Report Illustrations (150+pages)
   - General Considerations
Section 2: Practical Placement of Implant (Video)
   - ROOTT One-Piece Implant Practical Installation
If you have difficulties booking the course online, please email us at onlinebookingenquiries@corticallyfixed.com
On completion of your training you will receive a certificate with your name similar to that shown below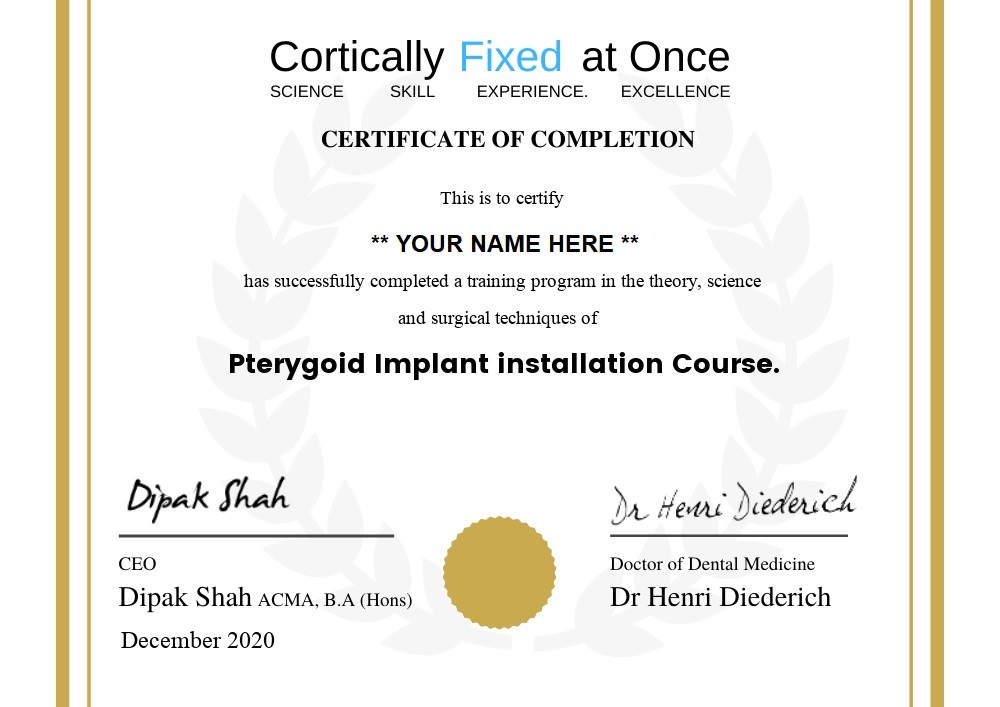 * Online Course **
ROOTT C (One Piece Implant) Training
by DR Henri Diederich
Date:  Online (Study in you own time)
Access available for 4 weeks
Discounted Launch Price: 
£397.00
(Normal Price: £597.00)
Booking process:
1. Click BOOK and pay online using a bank card / credit (Amex not accepted)
2. On payment you will receive confirmation of payment.
3. You will receive access to the online platform within 48hours of payment. Details will be sent to email provided on payment receipt.