Online Learning – CF@O Plates Install
LEARN ONLINE NOW 
Why train with Cortically Fixed @ Once?
Our lead trainer and International speaker Henri Diederich M.DM and his colleagues have been successfully installing the Swiss quality approved  patented CF@O plate in hundreds of patients for the last 10 years. Cortically Fixed has partnered with Dr  Henri Diederich to share his years of experience and knowledge to widen the treatment of patients across the Globe.
**Online Course**

CF@O Plate Installation Online Course

(34 Lessons)
 Course Details 
Cortically Fixed Principles and Application  (Reading and Illustrations)

Practical Placement of CF@O Plates (Video) 

Patient Cases (Reading and Illustrations)

Pterygoid Training included

Anatomy (Reading)

Practical Placement of Pterygoid Implant (Videos)
Note: The CF@O plates are currently not available at the moment in the EU, USA and Brazil. If you are located in these countries and are interested in the course please do not book online. Please get in touch using the contact page.
If you have difficulties booking the course online, please email us at onlinebookingenquiries@corticallyfixed.com
On completion of your training you will receive a certification with your name as shown below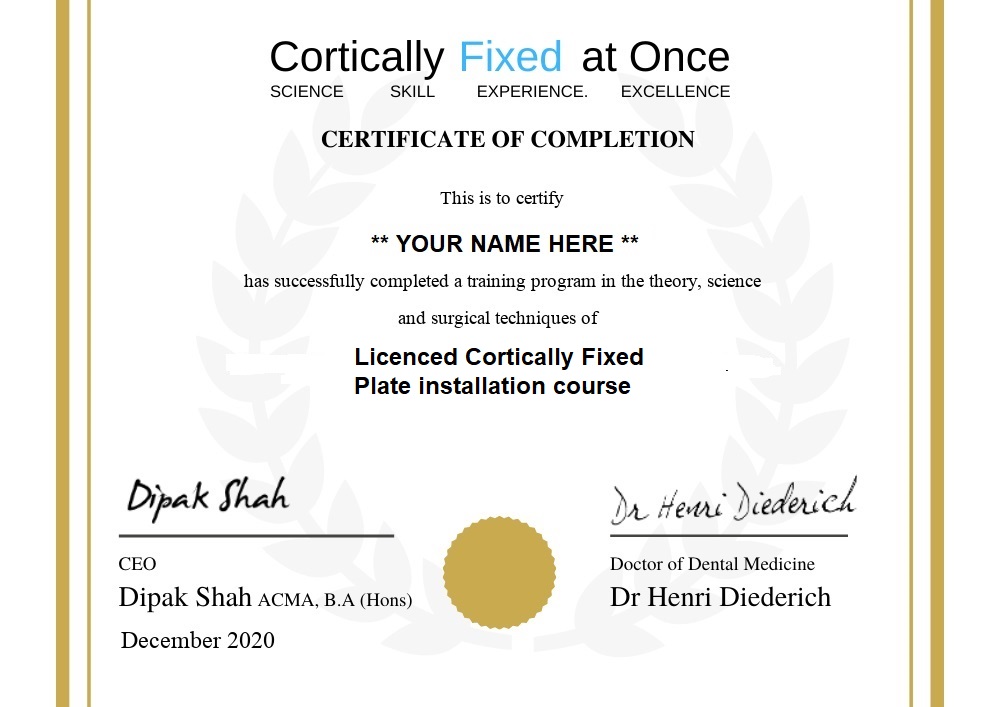 ** Online Course **
CF@O Plate Installation Course
Date:  Online - Study in you own time
(Course Access available for 4 weeks)
Application for UK CE in process 
Pre-EU Certification (awaiting CE) &
Pre FDA Certification (awaiting approval)
Launch Price: 
£2997.00
(Includes Application Fee of £100.00)
Booking process:
1. Pay application booking fee of £100.00 online by Credit Card (refundable if application rejected)
2. Pay Course fee by bank transfer in GBP / EUR / USD (bank details will be sent on application)
3. Upon receipt of funds, course access will be granted